This post originally appeared on Classic Boat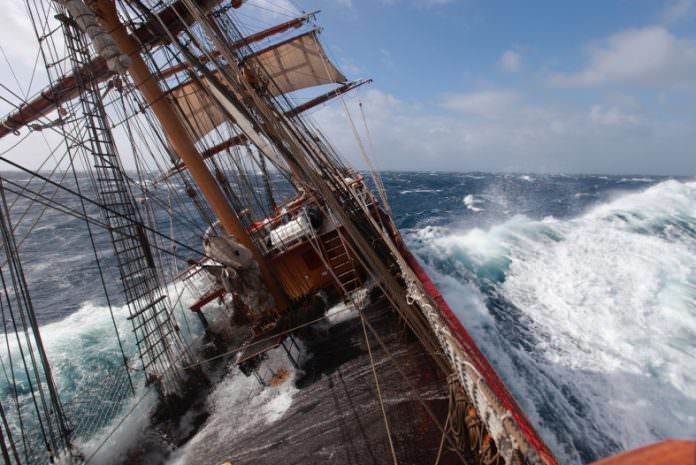 This is the stunning shot that has won the Classic Boat Award in the National Historic Ships UK 2016 Photography Competition.
Classic Boat's editor Rob Peake presented the award to winner Charles McLaren at an awards ceremony on October 20, on board HQS Wellington on London's Victoria Embankment.
Amateur photographer Charles took the shot, called 55 Degrees South, on the tall ship Europa. He was undertaking a 55-day voyage on the ship which had recently seen hurricane-force winds.
The tall ship Europa features in the November 2016 issue of Classic Boat.  (Hint: Subscribe to Classic Boat using the link at the bottom of the page!)
Rob said: "Charles' photo puts you right there on the aft deck as the ship rolls in a roaring Southern Ocean blow. It will either inspire you to go to sea tomorrow, or put you off the idea forever!"
National Historic Ships UK's (NHS-UK) annual awards ceremony is a celebration of the UK's maritime heritage and encourages people of all ages and backgrounds to engage with historic vessels through photography, volunteering, or by operating them and encouraging the public to go on board at festivals and events held around the UK coasts, lakes and rivers.
The winning entry was chosen from hundreds of professional and amateur entries to scoop the £1,000 prize awarded by National Historic Ships UK. The prize will go to a vessel of Charles' choice on the National Register of Historic Vessels.
All the category winners' stunning photos are featured in Classic Boat's December issue, published on 2 November in the UK. The winners are:
Category A – photographs of a vessel on the National Register of Historic Vessels
Highly commended – Rudderless Restoration – Bruces AH 94 by Bob Murphy from Edinburgh
Winner – Moored by Moonlight, by Jonathan Lewis from Warborough
Category B – traditional maritime skills in action
Highly commended – Caulking, by Alex Boak from Cunningsburgh, Shetland
Winner – High above, by Pascal Vandecasteele, from Antwerp, Belguim
Category C – Classic Boat favourite: the maritime enthusiast
Highly Commended – CK 78 Mary, by Shaun Mills from West Mersea
Winner – 50 Degrees South, by Charles McLaren from Shotley
Category D – Faces of the sea
Highly commended – On Guide Me, by Philippe Saudreau from Plérin, France
Winner – Sheltering Ferryman, by David Stearne, from Eyethorne
National Historic Ships UK's Photographer 2015
Overall Winner – 50 Degrees South, by Charles McLaren from Shotley
Special Commendation – CK 78 Mary, by Shaun Mills from West Mersea
The judges this year gave a Special Commendation to another extraordinary photograph, taken by amateur photographer Shaun Mills of Essex.
The competition has been supported this year by Classic Boat, Adlard Coles Nautical, Fat Beehive Ltd, Park Lane Press, International Boatbuilding Training College Portsmouth, Events Broadcasting Training Academy, Claudia Myatt, and Freeman's Wharf Boatyard.
The ceremony also saw the presentation of the Marsh Volunteer Awards to recognise outstanding volunteers in the conservation or operation of historic vessels in the UK.
The Individual award went to Fred Attwood who volunteers at Portsmouth Naval Base Property Trust. His extraordinary and vital input, carried out all but full-time on a voluntary basis, saw him named as the 2016 Marsh Volunteer Award winner and he received a prize of £500.
The Marsh Team Volunteer Award was presented to the Daniel Adamson Preservation Society – Engineering Department, for their efforts in operating and maintaining SS Daniel Adamson. The team received a prize of £1,000.
Jill Sim who volunteers at RRS Discovery was presented with a Special Commendation Award and receives a prize of £500.
The Marsh Volunteer Awards are supported by the Marsh Christian Trust.
The Annual National Flagship of the Year Award for operational vessels was awarded to Balmoral in recognition of her outstanding public programme, with Regional Flagship Awards going to Kennet (Merseyside) and Excelsior (East Anglia).
www.nationalhistoricships.org.uk
Want more CLASSIC BOAT?
Admire the world's most beautiful boats, brought to life through breath-taking photography. Classic Boat offers a unique blend of yacht reviews, seamanship and restoration features, history and design columns, practical advice and coverage of the leading international regattas and events.  Read Classic Boat digital edition anywhere on any device via ZINIO.
Source: This story first appeared on Classic Boat